Co-sponsored Events
2020-2021
The CCHS is co-sponsoring History Department Zoom events for Northwestern historians and invited guests under the rubric Historians at Home or H@H. For other co-sponsorships, please scroll down.
I. HISTORIANS @ HOME
E-mail reminders will contain the Zoom link. If not, please e-mail chs@northwestern.edu for the link. These events are being RECORDED and you will be able to view them on our MULTIMEDIA page.
Fall 2020
Thursday, September 10 at 1 p.m.—graduate panel on "Zoom Teaching Tips"

with top graduate teachers from the Spring—Caitlin Monroe, Mikala Stokes, and Robin Pokorski.

CANCELED: Thursday, October 15 from 1 p.m.to 2 p.m.—Roundtable on "

How

 

to

 

Rig

 

an

 

Election:

 a Historian's Guide" featuring Geraldo Cadava, Gideon Cohn-Postar and Paul Gillingham (Zoom meeting)
Thursday, October 29 from 1 p.m. to 2 p.m.—Roundtable on "Pandemics Past and Present" with Joel Mokyr, Edward Muir and Helen Tilley (Zoom meeting)
Tuesday, November 10 from 1 p.m. to 2 p.m. —Roundtable on "Global Perspectives on Policing and Justice" with Lina Britto, Peter Carroll and Sean Hanretta (Zoom meeting)
For the History Department (Zoom meeting): Wednesday, Nov. 11 from 1 to 2 p.m.—"Government Jobs for Historians": Info Session with Michael McCoyer (Ph.D., Northwestern, 2007), State Department Office of the Historian
For the History Department (Zoom meeting): Tuesday, November 17 at 1 p.m. faculty work-in-progress WORKSHOP with Tessie LIU on "The Alchemy of Merit: Race-Thinking and Citizenship in the French and Haitian Revolutions." Discussant: Kate Masur
Thursday, November 19 at 1 p.m.—a CCHS/HEFNU event—Erin McGLOTHLIN (Washington University, St. Louis)—a talk on "Claude Lanzmann's Shoah and Its Outtakes: The Ethics of Perpetrator Representation."
Winter 2021
Events take place from 12:30 to 2 p.m.
TBD:  Jan. 19 or Th, Jan. 21—Roundtable on "The Politics of Holocaust Memory" with Sarah Cushman, Stefan Ionesco, and Yohanan Petrovsky-Shtern
Monday, January 25—Roundtable on "Publishing Your Academic Book" with Caitlin Fitz, Priya Nelson, Senior Editor for History, Princeton University Press, Brandon Proia, Senior Editor, University of North Carolina Press, and Stephen Wesley, Editor, Columbia University Press
Thursday, Feb. 18—Roundtable on "Public History: CCHS Work Opportunities" with Emiliano Aguilar, Anisha Bhat, Elzbieta Foeller-Pituch, Beth Healey, and Robin Pokorski
Th, Feb. 25—CCHS webinar with guest speaker Samuel MOYN (Yale University) and Daniel Immerwahr on "The Coming of Humane War"
Th, March 4—Roundtable on "The Challenges of Planning Your Research" with Haydon Cherry, Gideon Cohn-Postar, and Sarah Maza
---
II. Other CO-SPONSORSHIPS
Annual support of the Long 19th-C. Colloquium (LNCC)—main sponsor: English Dept

September 28 at 12 pm—the MENA Program is hosting a talk titled "Support the 41: Iranian Student Activism in Northern California, 1970-1971" by Ida Yalzadeh, a Visiting Assistant Professor in the Asian American Studies Program this year. For more information and to register, please go to http://planitpurple.northwestern.edu/event/567375
---
2019-2020
All-year programs
FALL 2019
Ted McCORMICK (Concordia University) lecture on "Population before Quantification: Mobility, Mutability, and the Making of Political Arithmetic, 1500–1700" on Tuesday, October 1st at 5:15pm in University Hall 201 (the Hagstrum Room)—in collaboration with the British Studies Cluster and the English Department

Lecture: Dariusz STOLA (Polish Academy of Sciences) on "Polish Debates on the Holocaust"—Oct. 20 at the Evanston Public Library—sponsors: EPL, HEF, and CCHS
 Talk: Stefan IONESCU (Northwestern) on "Restitution of Jewish Property in Post-Holocaust Bucharest, 1944-1950" (Nov. 15)—sponsors: REES and HEF
 WINTER 2020
Lecture: Khaled FAHMY (Cambridge)—"Opening Up a Few Corpses: Islam, Dissection and Modernity" (Jan. 6)—sponsors: MENA, Science in Human Cultures Program, Religious Studies.

Anna Kornbluh (English, UIC)—"The Literary Commons: Impersonality and the Novel, Then and Now" on Tuesday, February 4 at at 5:15 pm in the Hagstrum Room (University Hall 201).  More on Prof. Kornbluh here. Sponsors: English Department, Graduate Cluster in British Studies.
SPRING 2020: events canceled due to coronavirus pandemic.
 Speakers Masha LIPMAN and Christy COLEMAN—keynote speakers for the Memorializing Dialogues (Kaplan Institute for the Humanities) on April 21—CANCELED due to coronavirus pandemic
James Chandler (English, University of Chicago) will present "Laurence Sterne and Ireland: 'A Seminary for the Humanities'" on Wednesday, April 29 at 5:15 pm in the Hagstrum Room (University Hall 201). More on Prof. Chandler here. Sponsors: English Department, Graduate Cluster in British Studies.
Panel discussion on "Truth-Telling: Frances Willard and Ida B. Wells" (convened by Prof. Leslie Harris) on April 30.  Sponsors: History, AFAM, Harris Fund, ORAI, Frances Willard House, Hull House (UIC)
Conference on "Race, Indigeneity, and the State in the 19th-century U.S." at U of Wisconsin, Madison (May 15, 2020). Sponsors: U of Wisconsin, Madison, Northwestern History Dept
---
2018-2019
Ongoing all-year series commitments 
See also our annual lecture collaborations with the University library, HEF, and CAAH, as well as the Boyce Lecture (under LECTURES and other EVENTS)
 MIDAS (Mexican Intelligence Archives) project         

New archive on the Congressional Hispanic Caucus (NU-Dartmouth initiative) 
Global History workshop       
---
  Fall 2018
Conference on "WRITING HISTORY THROUGH CHILDREN" (convened by Professor Sarah Maza as part of her Dorothy and Clarence Ver Steeg Distinguished Research Professorship)—Friday, October 5 and Saturday, October 6

Workshop on "A German-Jewish Hermeneutics" (Oct. 29-30)
Talk by Artist-in-Residence Deborah BAKER, author of The Last Englishmen: Love, War, and the End of Empire (2018)—Thursday, November 1 from 12:30 to 2 p.m. in Harris 108.
Lecture by Erik LINSTRUM (UVA) on "What They Knew: Violence at the End of Empire" on Tuesday, November 13 at 5:15 p.m. in Harris 108 (part of our co-sponsorship of the Graduate Cluster in British Studies)
Winter 2019
"Coffee and Conversations"—multiple sessions in the History graduate lounge, organized by the History Graduate Teaching Committee.
Website: Frances Willard House Museum, "Truth-Telling: Frances Willard and Ida B. Wells"—website launch March 14
Spring 2019
Conference: "African Studies Now: Decolonizing the Field," April 4-6 (African Studies Grad. Seminar)
Talk by Herman Bennett (CUNY) on his new book African Kings, Black Slaves: Sovereignty and Dispossession the Early Modern Atlantic,  April 10th at 12:30 p.m. in Kresge 1-515 (CAAH)
Symposium on "Waste Matters" with keynote speaker Gabrielle HECHT (Standord U)—April 11 (main sponsor: Environmental Humanities Workshop).
 Talk by Miri Rubin (QMUL) on "Ecclesia and Synagoga: Sisters in Time"—April 11 at 5 p.m. in Univewrsity Hall 201 (Medieval Colloquium)
Talk by Wen-Qing Ngoei (Nanyang Technological University, Singapore), April 23 (History)
Talk by Peter Filkins, H.G. Adler's biographer, "Writing History, Writing Biography: Capturing H.G. Adler's Many Worlds" on April 25 at  4pm in Harris 108, followed by a reception (co-sponsors: Department of German, CCHS, the Jewish Studies Program, Comparative Literary Studies, HEF, and the Weinberg College of Arts and Sciences)
Talk by Audrey Truschke (Rutgers U) on "Courting Controversy: Toxic Masculinity, Social Media, and Mughal History," May 15 (History Women's Group)
Public Humanities Colloquium quarterly meeting (May 23)
---
2017-18
Annual lecture collaborations (see also LECTURES and other EVENTS)

CCHS/HEF (Holocaust Educational Foundation of NU) lecture: Jan GRABOWSKI (University of Ottawa), author of Hunt for the Jews: Betrayal and Murder in German-Occupied Poland (2014)—Monday, October 23 at 5 p.m. (with reception to follow)—"Polish 'Blue' Police & the Extermination of Polish Jews, 1939-1945"
CAAH/CCHS lecture on African American History: Claude CLEGG (University of North Carolina), author of Troubled Ground: A Tale of Murder, Lynching, and Reckoning in the New South (2010)—Thursday, April 12 at 4:30 p.m. (with reception to follow)—"Hope and Fury: Toward a History of African Americans during the Obama Years"
History of the Book Lecture with the University Library: Janice RADWAY (NU), author of A Feeling for Books: The Book-of-the-Month Club, Literary Taste, and Middle Class Desire (1999)—Thursday, February 22 at 4:30 p.m. (lecture with reception to follow)—"Girl Zines, the 1990s, and the Challenge of Historical Narration"
Gray BOYCE LECTURE in Medieval History: Joel KAYE (Barnard College), author of A History of Balance, 1250-1375 (Chicago UP, 2014)—Thursday, April 19 at 4:30 p.m. (with reception to follow)
Ongoing all-year series commitments:
American Cultures Colloquium (ACC)—main sponsor: English Dept
Long Nineteeth-Century Colloquium (LNCC)—main sponsor: English Dept.         
Mexican Intelligence Archives (MIDAS) project—main sponsor: LACS

One Book, One Northwestern (3 events)

"Inventing America: A Conversation with Garry Wills about his writing on the Declaration of Independence" (with Sara Monoson)—Nov. 28, 2017
Annette Gordon-Reed (Harvard) and Erica Armstrong Dunbar (Rutgers) conversation on "Race and the Founding of the United States"—February 16, 2018
Benjamin H. Irvin (U of Arizona) talk on "Declarations of Dependence: Impaired Veterans and Disability pensions after the Revolutionary War"—May 10, 2018.
Fall 2017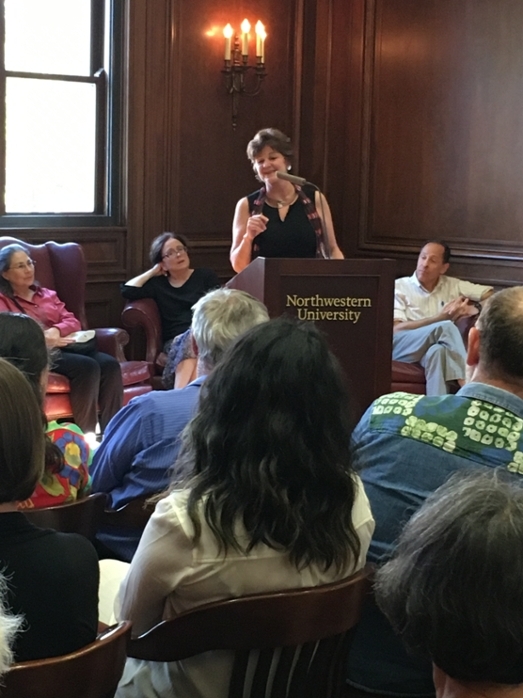 Special event: Nancy MACLEAN (Duke U) speaking about her book Democracy in Chains: The Deep History of the Radical Right's Stealth Plan for America (2017)—(Wednesday, September 27 at 4:30 p.m.)—co-sponsors: History, Kaplan Institute for the Humanities (TRUTH event)
Lecture: Charu GUPTA (U of Delhi)—"Dread and Desire: Hindu Masculinities, Muslim Sexualities and Recalcitrant Romances in Modern India"—Oct. 11—(sponsors: Dept. of Asian languages and Cultures, History, Asian Studies Program, and the Kaplan Institute for the Humanities)
Panel: Natasha TRETHEWAY, Carol ANDERSON, Leslie HARRIS—"Poetry/History/ Race/Truth"—Oct. 30 (main sponsor: Kaplan Institute TRUTH event)
Lecture: Karl JACOBY (Columbia U)—"An Empire of Dust: A Life on the Color Line and the Borderline"—Nov. 16 at 12 noon (co-sponsor: History)
Winter 2018
Environmental Humanities Workshop: Julia Adeney Thomas (U of Notre Dame), "The 'Human' in History and Biology: Questions of Scale, Questions of Value"—Jan. 19—co-sponsors: Kaplan Instititute for the Humanities and Asian Studies
Special event: Liesl OLSON (Director of Chicago Studies at the Newberry Library) speaking about her new book Chicago Renaissance: Literature and Art in the Midwest Metropolis—Jan. 25 at noon (co-sponsors: Kaplan Institute and English Dept.)—co-sponsors: the English Department and the Kaplan Institute for the Humanities
Lecture: Jennifer BRIER (UIC)—"How to Have History in an Epidemic: Can History Make you Healthy?"—Feb. 15 at noon (co-sponsors: Feinberg School of Medicine, History Dept.)
Race and the Founding of the United States: A Conversation between Annette Gordon Reed and Erica Armstrong Dunbar—Feb. 16—part of the Northwestern One Book series
Conference on "Crisis in Venexzuela: Historical Perspectives and Potential Solutions"—March 1 from 3 to 5 p.m.at University of Illinois Chicago (co-sponsors: UIC, NU History, LACS, Buffett Institute for International Studies)
Spring 2018
Lecture: Pablo PICCATO (Columbia U)—"A National History of Infamy: Tracing the History of Truth in Modern Mexico" April 6 (main sponsor: Kaplan Institute TRUTH event)
Lecture:  A.G. HOPKINS (Cambridge U), "American Empire" (April 18)—main sponsor: History Dept.
Reading: "Viscardo y Guzman and the People's Emancipation" by Dardo SCAVINO (Universite de Pau)—April 26—part of the One Book, One Northwestern series
Conference: Environmental HumanitiesConference on "Why Do Animal Studies?" (Drake Hotel)—April 2018
Sephardic Studies lecture series (three lectures in April/May 2018)—co-sponsors: Jewish Studies, Keyman Modern Turkish Studies Center, Sava Ranisavljevic Endowment for Juseo-Spanish Studies, and the Dept. of History.

Devin NAAR (U of Washington), "Like Negros …and Mohammedans: Sephardic Jews in the American Racial Imagination" (April 19)
Aron RODRIGUE (Stanford U), "Between the Ottoman Empire and Italy: The Jews of Rhodes, 1880-1838" (April 26)
Julia PHILLIPS COHEN (Vanderbilt U), "Remembering 1492: Ottoman Jews and the Spanish Past" (May 3)
For past co-sponsorships, see: CHS co-sponsored events update 2017.pdf
Back to top