2009 Conferences

Spring 2009
"Manifesting Madness: Historical Interpretations of the Exceptional, the Marginal, and the 'Normal'"
Friday, April 24, 2009. Convener: Anne Koenig (CHS Fellow)

11:00 a.m Welcome and opening remarks by T.H. Breen (Director of CHS, Northwestern University)

11:15 a.m. Keynote Address by H.C. Erik Midelfort (University of Virginia), author of Witch Hunting in Southwestern Germany, 15621684:The Social and Intellectual Foundations (1972), Mad Princes of Renaissance Germany (1994), A History of Madness in Sixteenth-Century Germany(1999), and Exorcism and Enlightenment: Johann Joseph Gassner and the Demons of 18th-Century Germany (2005). Both works on German madness received the Roland Bainton Award for the best book of the year.
"Schwermuth and Unsinnigkeit: Johann Heinrich Zedler (1706-1751)
and the Difficulties of Vernacular Psychiatry"
1:30 p.m. First Panel Presentations
Anne Koenig (NU)-"Hildegard of Bingen: A Twelfth-Century Psychiatrist?"
Beth Condie-Pugh (Northwestern University)--"Finding Pazzia: Madness in Late-Renaissance Italy"
Megan McFadden (Northwestern University)--"'Alas sweet lady, what imports this song?": Musical Performance of Feminine Madness on the Jacobean Stage"
Comments by William Monter (Northwestern University), whose books include European Witchcraft (1969), Ritual, Myth and Magic in Early Modern Europe (1983), Frontiers of Heresy: the Spanish Inquisition from the Basque Lands to Sicily (1990), and Bewitched Duchy: Lorraine and its Dukes, 1477-1736 (2007).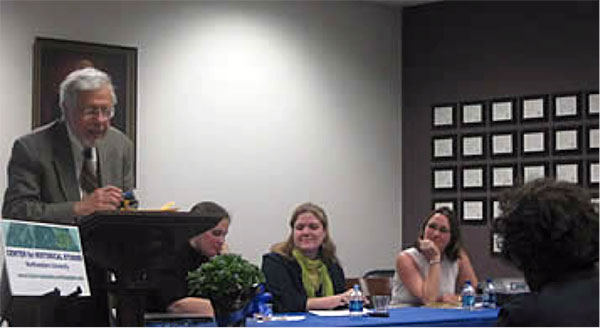 3:00 p.m. Second Panel Presentations
Rachel Ponce (University of Chicago)--"'Unnatural Murder' in the Early American Republic: Madness, Morality, and Family"
Darcy Heuring (Northwestern University)--"The Kingston Lunatic Asylum and Responsibility in Colonial Jamaica"
Comments by Anne Harrington (Harvard University), author of Medicine, Mind and the Double Brain (1987), Reenchanted Science (1997) and The Cure Within: A History of Mind-Body Medicine (2007).
5:00 p.m. Closing comments and reception.


Back to top