Historians at Play
Historians at Play: A Recap of the CCHS Graduate Conference on Histories of Leisure
Charles Keenan | May 13, 2015
On Friday, May 8, the Chabraja Center for Historical Studies hosted its second graduate student conference of the year, on "Parks and Recreation: Histories of Leisure." The conference included graduate students from Northwestern University and the University of Chicago as well as professors from Indiana University and the University of Wisconsin-Madison. In his opening remarks, the conference convener Keith Rathbone (NU) commented on the growing interest in leisure as an object of historical study and its appeal across geographic and chronological specializations.
The first panel began with Emma Goldsmith (NU) speaking about the leisure practices of newly wealthy families near Glasgow and Liverpool around the turn of the twentieth century. Goldsmith described changing practices relating to hunting, which had previously been an exclusively aristocratic activity that was now opening up to other social groups, and she explained how elites could make business decisions outside of city centers, in less formal locations like billiard rooms. Bennett Jones (NU) then used an account of a panther sighting on a Louisiana sugar plantation in the mid-nineteenth century to explore human engagement with the natural environment, suggesting that panthers were seen as a threat to the "natural order of things" on plantations, which were shaped by white, male authority. Keith Rathbone then analyzed French perceptions of American athletes in the interwar period. Rathbone argued that the French linked Americans with primitivism, and he described French fascination with African-American athletes. However, French athletes were nevertheless encouraged to learn from their American counterparts. Professor Michael Sherry (NU) then offered comments on these three papers, pointing out the dangers in juxtaposing "work" and "leisure," since work can be enjoyable, while some leisure activities can be hard.
In the second panel Luthfi Adam (NU) examined the careers of two Indonesian writers from the early twentieth century who were activists, forming the Indonesian communist party, pushing for more access to education, and encouraging people to wear Western clothing. Adam paid particular attention to the idealized depictions of recreational space in these men's novels. Andrea Christmas (NU) then explored Zazou culture in German-occupied France, explaining that they were perceived as a threat because they did not embody proper French masculinity and strength – they were instead described as lazy and lacking control over their bodies. The treatment of the Zazous, Christmas argued, demonstrates the extent to which the French state relied on embodiment and masculinized bodies. Finally, Emily Marker (Chicago) investigated how the Vichy government's rejection of laïcité affected its relationship with youth groups, looking specifically at the Boy Scouts in Africa. Both Catholic and Protestant French leaders wanted to support the scouts because they believed scouting fostered certain virtues Africans lacked, but a consequence of this closer relationship with African Christians, there was a growing gap between French people and African Muslims. Marissa Moorman (Indiana) then gave comments to each of the speakers, pushing them to examine the tensions within the groups involved, including, debates among Zazous and the internal dynamics of the scouts.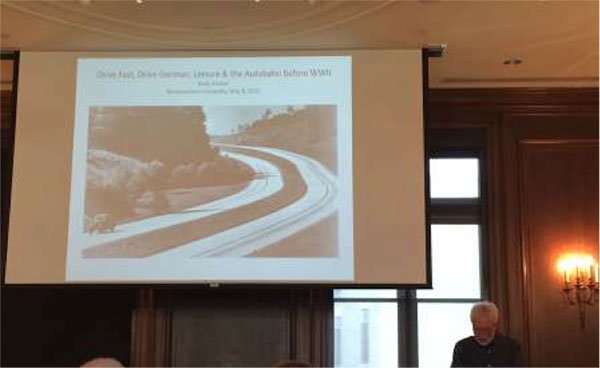 Prof. Koshar delivering the keynote address
After lunch, Rudy Koshar (Wisconsin) gave his keynote address: "Drive Fast, Drive German: Leisure and the Autobahn before World War II." Koshar argued that in the totalizing world of Nazi Germany, the Autobahn became an important symbol of German virtue, and that the social practice of driving demanded certain requirements of German citizens. Driving, in Koshar's view, was coded by certain rules that needed to be explained and enforced. The "sins" of driving included not staying in one's lane and driving inattentively. Speed was also a concern, and here Koshar explained the history of German driving in the early twentieth century. Before World War I, cars were mostly used by gentleman for sporting, but after the war there was a greater focus on utility, and "popular" drivers at the time undertook slow drives on country roads. The Autobahn brought a crisis in German driving because it demanded certain skills like driving fast, as gentlemen sporting cars had, but it was meant for everyone, and popular driving had previously been associated with moderation and slower speeds.
The afternoon panel began with Ruby Daily (NU) examining "the Gentlemanly Pornography Hobbyists of Nineteenth-Century Britain." Daily described how most of these men were bibliophiles that were already networked with other book collectors, and as a result, the collection of erotica was partly appealing because it was a social activity, one that was only possible with elite social status and connections. Susannah Engstrom (Chicago) then explored the place of women in amateur theater in postwar Minneapolis, arguing that the theater offered women a space for experiences they might not have otherwise had. However, by the late 1950s, amateur theater came under increasing pressure from professional theater, although initially the encroachment of professional theater led some to defend the communal effort required to produce amateur theater. The last paper of the day was given by Thomas Nousse (NU/NU Law), who analyzed the history of pinball machines in Chicago and Evanston. Nousse described the strict municipal regulations placed on pinball machines nationwide – some of which are still in place today – which were often based on laws against gambling and those protecting morals. It was only in the 1970s that many of these laws were repealed, when pinball was demonstrated to be a game of skill, not chance. Professor Moorman remarked that these papers were all attentive to "social convention and its regulation."
Speakers, commenters, and members of the audience frequently returned to Prof. Sherry's remarks on the difficult task of distinguishing between "work" and "leisure." As the day's presentations demonstrated, leisure has a complicated history of its own that connects to many other areas of scholarship, including the histories of literature, transportation, law, and religion. The CCHS graduate conference pointed out many trends in this growing field of study, and we can all look forward to the scholarship that comes out of it.