Graduate Fellows
2022-2023 T.H. Breen and Quinn Fellows
T.H. Breen Conference Fellow: Claire ARNOLD
Claire C Arnold studies the history of modern Europe, focusing on global Britain. Her dissertation, titled "The Demands of Distance: British Families in the World, 1810-1900" argues that middle-class families played a crucial role in extending the British power within and beyond the empire with implications for both the shape of the British world and families themselves. Her research interests include the family, migration, and empire, as well as the relationship between commercial and imperial networks. She will be convening a graduate conference in Spring 2023 on "Commercial Networks: Connections, Conversations, Conflicts."
Emily Lyon is a historian of the late-19th and early-20th century United States. Her dissertation focuses on empire, visual culture, and race & gender, analyzing how white women photographers, mapmakers, travel writers, filmmakers, and artists sustained US colonial power between 1870 and 1930 across different geographical sites of empire in the Pacific, Caribbean, and North American continent. She is also interested in the digital humanities and public history. As the T.H. Breen Digital Media Fellow, she is currently working on a project to curate collections of digitized primary sources to be used in classrooms at Northwestern and beyond. 
Quinn Fellow: Matthew WONG  FOREMAN
Matthew Wong Foreman is currently the Quinn Fellow at CCHS, where he is finishing up his dissertation. His dissertation, "Science and Security: Constructing the Modern Chinese Citizen, 1900-1966" examines the historical conditions through which the concept "mixed-blood" emerged in the Chinese imagination alongside the political-intellectual construction of Chinese citizenship. 
Summer 2022 graduate fellowships
Alison CHOI—Korean-American organization GYOPO
Dexter FERGIE—Parkway Village Oral History project
Matthew FOREMAN—Dui Hua organization
Bennett HERSON-ROESER—Omohundro Institute for Early American History and Culture
Caitlin MONROE—AHA project on "Teaching Things: Material Culture in the History Classroom"
---
2021-2022 T.H. Breen and Quinn Fellows
Breen Conference Fellows:
Chernoh BAH—conference on "Global Perspectives on the Prison and Systems of Punishment Across Time and Place from 15th Century to the Present"
Guangshuo YANG—conference on "When They Became Pests: Social Othering of Human and Nonhuman Species in History"
Breen Digital Media Fellow:
Gil ENGELSTEIN
Quinn Fellow in collaboration with the Doris G. Quinn Foundation
Lois HAO—dissertation on "Destined to Marry?—Marriage Renunciation and Reform for Women in Republican China"
Summer 2021 graduate fellowships
Hope McCAFFERY—Colored Conventions Project (CCP) with Prof. Kate Masur
Mikala STOKES—CCP
Marquis TAYLOR—CCP
Lois HAO—Chicago History Museum
Alexandrea KEITH—South Side Community Art Center (SSCAC)
Emily LYON—Rogers Park and West Ridge Historical Society
Heather MENEFEE—Dakhóta Iápi Okhódakičhiye
John POLLARD—Gerber/Hart Library and Archives in Chicago
Melody SHUM—East-West Center in Hawaii
Rita VELASCO—Arizona Historical Society (AZHS)
---
2020-2021 T.H. BREEN FELLOWS
Ruby DAILY—convener of a graduate conference on "The Me: Historicizing the Self"
Sian OLSON DOWIS—convener of a graduate conference on "'The End of the World as They Knew It': Crisis and Conflict in History" 
 Gil ENGELSTEIN—Digital Media Fellow
2020-2021 QUINN FELLOW in collaboration with the Doris G. Quinn Foundation
Laura NOBOA—dissertation on "Your Most Dedicated and Obsequious Consort: The Self-Representation of Three Consorts in Renaissance Italy"
Summer 2020 fellowships:
Anisha BHAT at Illinois Humanities
Guangshuo YANG at Chicago Leather Archives and Museum
Colored Conventions Project (with Prof. Kate Masur): Hope McCAFFREY and Emiliano AGUILAR 
Classicizing Chicago Project (with Prof. Sara Monoson): Brian FORMAN, Robin POKORSKI, John SULLIVAN 
---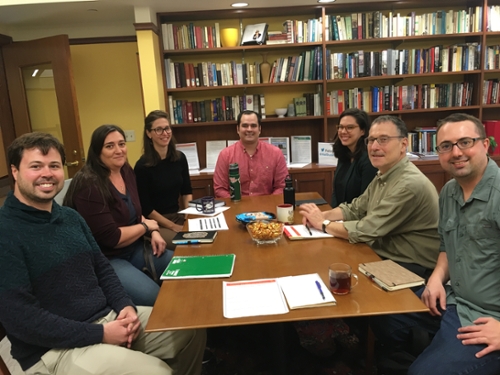 2019-2020 T.H. BREEN FELLOWS
 Sean HARVEY—convener of our May 1 conference on "The Politics of Progress: Growth in and throughout History" (Dissertation: "Assembly Lines: Maquiladoras and the Making of the U.S.—Mexico Borderlands, 1932-1992")
 Katya MASLAKOWSKI—working on CCHS digital media (Dissertation: "Men of Violence: Counterinsurgency and British Colonial Violence at the End of Empire")
2019-2020 QUINN FELLOW in collaboration with the Doris G. Quinn Foundation
Summer 2019 fellowships:
Holly DONAT at Timeline Theatre, Gideon COHN-POSTAR at the Chicago Council on Global Affairs, and Guangshuo YANG at the Chicago Leather Archives and Museum.
---
 2018-2019 T.H. BREEN FELLOWS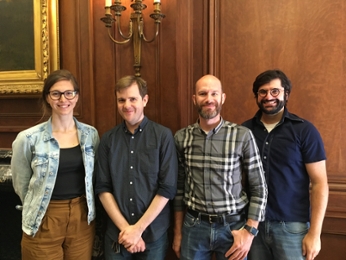 Jessica BIDDLESTONE—digital media (Dissertation: "France in Roman Africa: Antiquity and the Making of Empire in French Algeria and Tunisia 1830-1900")
2018-2019 QUINN FELLOW in collaboration with the Doris G. Quinn Foundation
 Keith Allan CLARK II—dissertation on "Defining China: Beijing, Taipei, and the United Nations' 'China Seat,' 1949-1992"
---
Back to top