2010-2011 Global Exchanges
2009-2010 International Doctoral Workshop on TRANS-NATIONAL HISTORY at Sestri Levante, Italy (April 14-15, 2010)
This workshop, co-hosted by Professor Luca Codignola, director Consiglio Nazionale delle Ricerche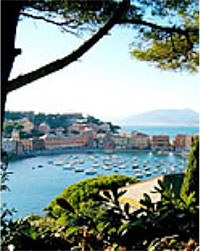 and Istituto di Storia dell Europe Mediterranea, was on the topic of "Doing Trans-National History in the 21st Century: An assessment of the field."

NU participants: Professors T.H. Breen and Edward Muir with
Stefanie BATOR—"The U.S., the World, and Transnational History"
Darcy Hughes HEURING—"Forging a New Jamaica: 'Improvement,' Identity and Policital Change, 1938-1944"
Celeste McNAMARA—"The Tridentine Reformation as a Transregional Phenomenon: Episcopal Strategies for Religious Reform in 16th and 17th-century Europe"
Stephanie NADALO—"A Citadel of Slavery in a Frontier of Tolerance: Trans-National Diplomacy in the Bagno of Seventeeth-Century Livorno"
Howard PASHMAN—"Overcoming Exceptionalist Views of the American Revolution"
---
2010-2011 International Doctoral Workshop on oral history in Rio de Janeiro, Brazil (13-17 June, 2011)


Participants: Professors Brodwyn Fischer and Kate Masur with
Juri BOTTURA (declined), "A Forgotten Political Subject and the Challenges of Written and Oral Sources: The Sociedade dos Amigos de Alberto Torres in the  Accounts of Barbosa Lima Sobrinho"
Emily CALLACI, "Rural 'Culture' and Urban Lives: Oral Testimony and the Politics of Urban Citizenship in Postcolonial Dar es Salaam, Tanzania"
D'Weston HAYWOOD, "'Lost in Translation': Robert S. Abbott, the Chicago Defender, and

the Limits of Orality"
Rebecca MARCHIEL, "Mutual Interrogations: A Method for Establishing Trust in Oral Interviews"
Abigail TROLLINGER, "Before Entitlement: Chicago's Unemployed at the Beginning of the Great Depression"
---
Back to top