Postdoctoral Fellowships
Since 2015-2016 the Chabraja Center for Historical Studies supports 2-3 postdoctoral fellowships, intended to offer one year's support to recent Ph.D. graduates of the Northwestern History Department in order to help them to advance their research and publication agenda and gain additional teaching experience. The fellowship is open to historians who have gained their PHD within the three years prior to the fellowship year. For more information see the left-hand banner and click on  Postdoctoral Fellowship Application.
The Chabraja Postdoctoral Fellows together with the graduate Breen and Quinn Fellows form a small, but significant CCHS scholarly community, which meets regularly at the Center (see People).
---
This year the Center, jointly with the History Department Material History Lab,  is conducting a GLOBAL SEARCH (open to candidates worldwide) for  a
2023-24 Postdoctoral Research Associate in African Material Science and History—for more, please see HERE.
---
2022-23 CHABRAJA POSTDOCTORAL FELLOWS
Chabraja CCHS Postdoctoral Teaching Fellowships
Gil ENGELSTEIN
Robin POKORSKI
Chabraja History Department Postdoctoral Teaching Fellowships
Marcos Leitão De ALMEIDA
Andrea ROSENGARTEN (Fall 2022)
Chabraja Postdoctoral Fellowships in Public Service
Ruby DAILY (online magazine Public Books)
Guangshuo YANG (Chicago Leather Archives and Museum)
---
2021-22 CHABRAJA POSTDOCTORAL FELLOWS
This year we will have an exceptional number of postdoctoral fellows in collaboration with the History Department and other institutions, such as the Newberry Library and the online publication Public Books. The teaching postdocs are offering small "re-entry seminars" to help undergraduates move from remote learning to in-person classes.
Chabraja CCHS Teaching Postdoctoral Fellowships (History 200 seminars)
Bennett JONES—seminars on "#History: How to Tell the Story of Vast Early America" —Fall and "Period Pieces: US History as Told by Popular Culture"—Winter
Vanda RAJCAN—seminars on "Propaganda: The Power of Lies"—Fall and "Historians in Trouble"—Spring
 Chabraja History Teaching Postdoctoral Fellowship (History 200 seminar
Aram SARKISIAN—seminar on "One Nation Under God?  Talking About American Exceptionalism"—Fall; co-teaching "History of the Present" with Lauren Stokes—Winter
Chabraja Postdoctoral Fellowships in Public Service
Michelle BEZARK (Start Early)
Gideon COHN-POSTAR (U.S. Congress)
Ruby DAILY (Public Books online publication)
Chabraja Newberry Library Postdoctoral Fellowship
Gabrielle GUILLERM (Hermon Dunlap Smith Center for the History of Cartography)
---
2020-21 CHABRAJA POSTDOCTORAL FELLOWS
We are happy to welcome back our 2019-20 Quinn and Breen Fellows as Postdoctoral Fellows this year. In 2020-21 we will not have a Chabraja Fellow in Public Service.  
William FITZSIMONS—2020 dissertation: "Power without a Center: Age, Mobility, and Political Institutions in the Grasslands of East Africa, c. 500 BCE-1800 CE"—as of 2021 Dr. Fitzsimons has accepted the position of historian with the U.S. Air Force.
Laura McCOY—2020 dissertation: "In Distress: Family and a Marketplace of Feeling in the Early American Republic"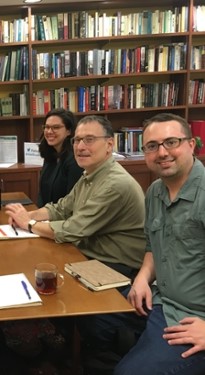 2020-21 Chabraja postdocs with CCHS DIrector Jonathon Glassman.
---
2019-20 CHABRAJA POSTDOCTORAL FELLOWS
Jessica BIDDLESTONE—2019 dissertation on "France in Roman Africa: Antiquity and the Making of French Algeria and Tunisia"—as of February 2020 Dr. Biddlestone has been working as College Advisor at the University of Chicago.
Ryan BURNS—2019 dissertation on "Potential Protestants: Catholics, Conformity and Conversion in Early Modern Scotland, 1560-1780"—in 2021-22 a

visiting assistant professor of history at Regis University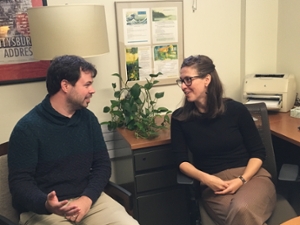 2019-20 CHABRAJA POSTDOCTORAL FELLOW in PUBLIC SERVICE
Teng LI—2019 dissertation on "Chinese Judiciary at the Crossroads: Property Laws, Policies, and Courts in Taiwan and Manchuria, 1945–1953"—working at the American Bar Foundation: http://www.americanbarfoundation.org/index.html  (Mapping Chinese Courts, 1996-Present)—

in 2019-20 became a visiting assistant professor of history at the University of Portland and in 2020-21, a postdoctoral fellow in the Law School at NYU

---
2018-19 CHABRAJA POSTDOCTORAL FELLOWS
 Alex HOBSON (School of the Art Institute of Chicago)—2017 dissertation: "Chains of Vengeance: The United States and Anti-Imperialism in the Middle East, 1967-2001"—at present a

Lecturer at the

Pardee School of Global Studies,

Boston University.

Alexandra THOMAS (NU)—2018 dissertation: "Reason of State and the Politics of Botero, Campanella, and Sarpi in the Waning of the Renaissance"—now a

Research Associate at Skidmore College and a Consultant with the Newberry Library's Center for Renaissance Studies.
Both taught classes in the History Department during the 2019 Spring Quarter.
 New CHABRAJA POSTDOCTORAL FELLOW in PUBLIC SERVICE
 Beth HEALEY (NU)—2017 dissertation: "Nazi Crimes, British Justice: The Royal Warrant War Crimes Trials in British-Occupied Germany, 1945-1949"—currently working at The Graduate School of Northwestern University.
 Beth worked and conducted research at UnSilence in Chicago: http://www.unsilence.org/
---
The 2017-2018 Chabraja Postdoctoral Fellows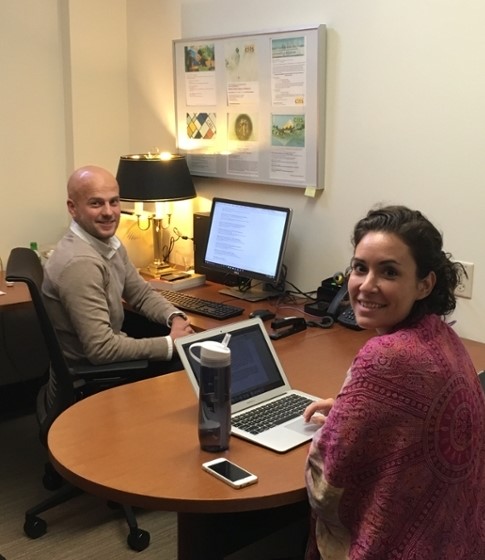 Kyle BURKE (Research Asst. Professor at the Center for the Study of Force and Democracy, Temple University in 2016-17)—2016 dissertation: "A Global Brotherhood of Paramilitaries: American Conservatives, Anticommunist Internationalism, and Covert Warfare in the Cold War." At NU Kyle taught a seminar on "The United States in the Global Cold War" and a lecture course on the "History of US Foreign Relations." His first book, Revolutionaries for the Right: Anticommunist Internationalism and Paramilitary Violence in the Cold War, was published by UNC Press in Spring 2018.  At present Kyle Burke is an assistant professor of history at Hartwick College. As a Chabraja Fellow Kyle published his first book, Revolutionaries for the Right (UNC Press, 2018).
Raevin JIMENEZ (NU)—2017 dissertation: "Rites of Reproduction: Gendered and Generational Political Institutions and Ideologies of South African Nguni-speakers, 8th-19th Century CE." Raevin taught a course on "Women and Gender in African History" and a freshman seminar on "African History: Myths, Lies, Stereotypes." Currently she is a LSA Collegiate Postdoctoral Fellow at the University of Michigan.
---
2016-2017 Chabraja Postdoctoral Fellows
Ashley JOHNSON BAVERY (Visiting Asst. Professor at Binghamton University SUNY in 2015-16)
2015 dissertation: "Deported from Detroit: Illegal Europeans, Nativism, and the Rise of Immigration Restrictions in Interwar America"
Beyond revising her manuscript for publication, as a postdoctoral fellow Ashley began research on a new project that examines Depression Era federal welfare programs in Puerto Rico, the Virgin Islands, Hawaii, and the Philippines, analyzing how America's welfare state developed in tandem with its imperial vision. Ashley taught classes on African American and women's history. Her lecture course, "Imprisoned America: African Americans, Crime and Punishment (Winter 2016)," investigated the ways African Americans have been historically tied to crime, drugs, and violence. She also taught a freshman seminar on women's history entitled, "Beyond Rosie the Riveter: Women, Wages and Work in the Twentieth Century." She is now at Eastern Michigan University.
Keith RATHBONE (Visiting Asst. Professor at Wooster College in 2015-16)
2015 dissertation: "A Nation in Play: Physical Culture, the State, and Society during France's Dark Years, 1932-1948"
Keith returned to Northwestern after a year at the College of Wooster where he had been a Visiting Assistant Professor in the Department of History.  His postdoctoral year he taught a course on "Soccer as Global History" and an undergraduate seminar "America and Americans in Europe."  When not in the classroom or writing, Keith also worked as the Digital Coordinator for the Western Society for French History and the Society for French Historical Studies. He now teaches at Macquarie University in Sydney, Australia.
2015-16 Chabraja Postdoctoral Fellow
Wen-Qing NGOEI
As a Chabraja Postdoctoral Fellow Wen-Qing Ngoei (Ph.D. Northwestern, 2015) worked on his book manuscript, The Arc of Containment: Britain, Malaya, Singapore, and the Rise of American Hegemony in Southeast Asia, 1941-1976, which de-centers U.S.-Vietnam relations to illuminate the historical processes more characteristic of, and consequential for, American empire in postcolonial Southeast Asia. In addition to his book project, Wen-Qing was also preparing articles on the ways that British neocolonialism in Malaya and Singapore and ASEAN (Association of Southeast Asian Nations) non-alignment policy shaped American containment strategy and rapprochement with China. Courses taught were an undergraduate history seminar entitled "Southeast Asia in the Twentieth Century—A Playground for Empires?" in Fall 2015  and "U.S. Foreign Relations History" in Spring 2016. He now teaches History at Singapore Management University.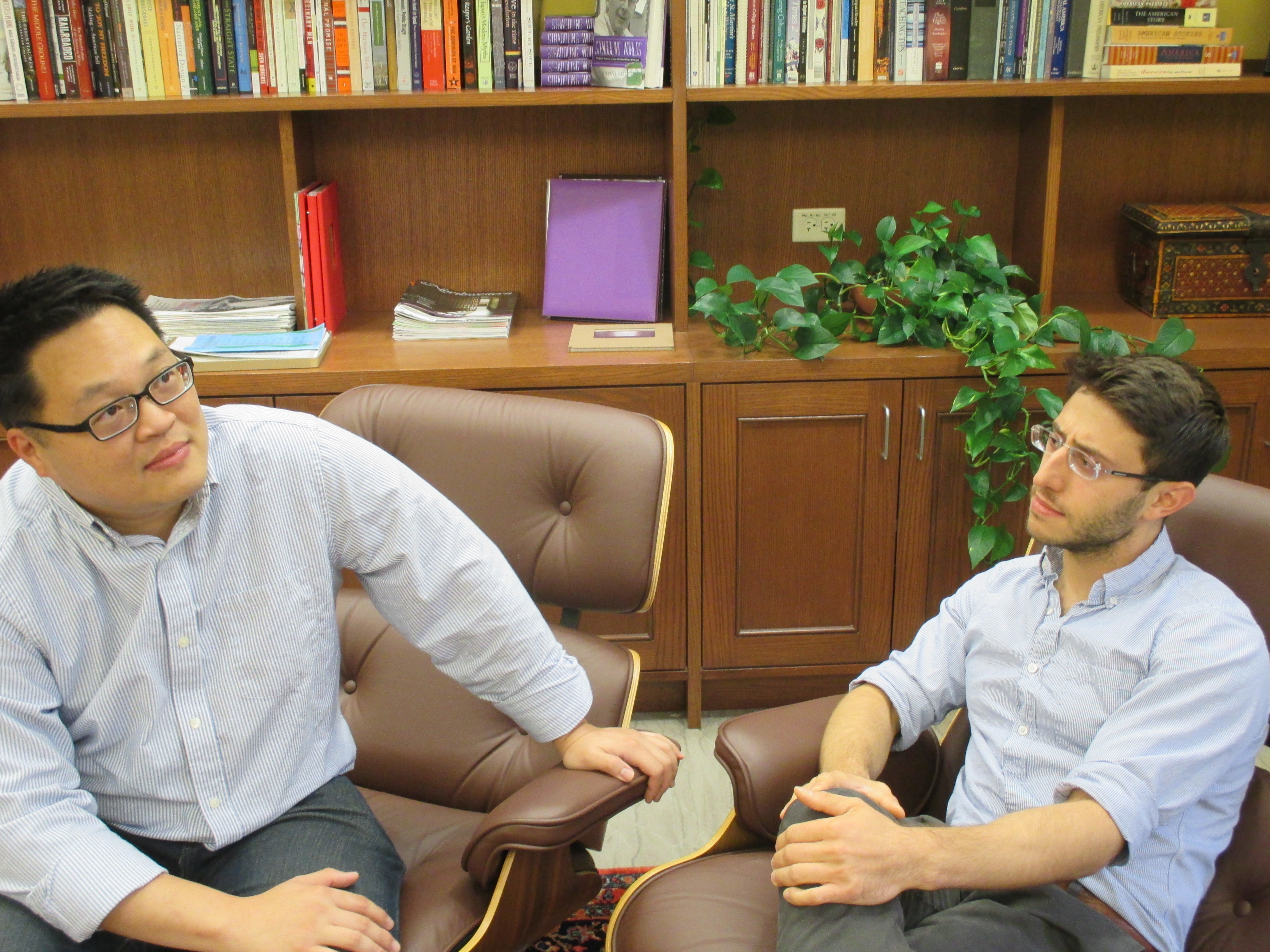 2015-16 Mellon/Chabraja Postdoctoral Fellow
Michael (Marty) MARTOCCIO

Michael Paul Martoccio holds a Ph.D. in History from Northwestern University with a minor specialization in International Relations, an M.A. in History from Northwestern University, and a B.A. in History and Medieval Renaissance Studies from Duke University (magna cum laude). During his year as a Chabraja/Mellon Fellow, Michael worked on three projects as well as teaching two seminars. His first priority was to revise his book manuscript Trust Thy Neighbor: International Cooperation and the Renaissance State, a study of inter-city cooperation among Italian city-states from 1300-1500. He also revised two essays for publication, one an examination of the market for castles, lordships, and abbeys from 1250-1650 in Europe and the Mediterranean and the other a comparative analysis of the military and economic effectiveness of city-leagues on both sides of the Alps. Finally, he taught two courses: "Economic History 1200-1800" (a course examining the economic history of Europe from the Middle Age to the nineteenth century with themes including the emergence of large trading networks, the development of sovereign credit markets and joint stock companies, and the economics of wa) and "The City-State in History, Economics, and Politics," a course that allowed students to explore how three academic disciplines - history, economics, and political science - explain one historical phenomenon: the city-state. He is now part of the The European Fiscal-Military System 1530-1870 project at the University of Oxford.
Back to top